"Silent Heroes"
Roundtable Ensemble at Theatre 54 at Shetler Studios
244 West 54th Street, New York, NY
January 8-24, 2009; Wednesdays-Saturdays at 8:00 p.m.; Sat. & Sun. at 3:00 p.m.
Tickets: $18; Pay what you wish on Mondays
Box office: 1-800-838-3006 or www.roundtableensemble.org
Reviewed by Dorothy Chansky
L to R: Rosalie Tenseth, Kelly Ann Moore, Dionne Audain, Sarah Saunders and Lisa Velten Smith in "Silent Heroes." Photo by Jim Baldassare.
Here's feminism's dilemma in a nutshell: Is it better to strive for full, gender-blind equality in all realms of public and private life, or is the more purposeful path to work towards recognition of the needs of and prejudices against women in the real life world as it now exists?
Only one character in Linda Escalera Baggs's "Silent Heroes" actually calls herself a feminist, but part of Baggs's point is that the term needs historical situatedness. "Silent Heroes" features six military wives waiting to hear which of their husbands will not be returning from an exercise in which one of their planes was shot down. Something about radio being knocked out has made it impossible for the pilots to communicate either with each other or with home command. It's 1975 on a Marine base in South Carolina.
Roundtable's small-scale production (Theatre 54 seats just sixty) foregrounds the intimacy among the pilot wives. (The practical but cramped and seedy set is by Nick Francone.) As the six wait and worry in close quarters, they reveal the personal secrets hidden behind the code by which they all (except the self-professed feminist) live. That code says that their husbands' ranks are their ranks, too. They toe the line as Americans who salute the flag, dress well in public, and stand by their men. The play is set on the night that tests their mettle as patriots, wives, and friends.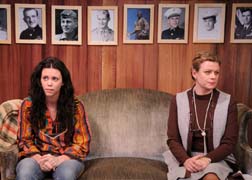 Sarah Saunders and Kelly Ann Moore. Photo by Jim Baldassare.
Baggs's script is not subtle. The alpha female crumples in the end. The battered wife screws up the courage to leave her husband, at least for a night. The socialite is wised up to the racism in her daughter's chic private school. The African-American wife confronts her naïve cohort and confesses that she needs the military as much as her husband does. The hard-boiled critic reveals that her heart was broken by her husband fathering a child in Vietnam; more importantly she reveals that she still loves him. The feminist who burned a flag at a Kent State protest finds that she loves her country after all.
"Confess" and "reveal" are the operative words here. The six women wait for the surviving husbands to come back, knowing there will be only five planes and playing a kind of emotional roulette. Baggs maneuvers pairs, trios, and quartets out of the room in fits of pique or the need for the bathroom so that other duos or small groups can have heart-to-hearts.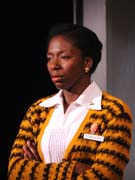 Dionne Audain. Photo by Jim Baldassare.
The pleasure in the production is in the ensemble and solo work of the cast, although half of them were strained and true to stereotypes for the first half hour of the performance I saw. When they settled in, though, they did what actors in domestic realism are supposed to do, which is convey credibility and garner identification and sympathy. (The setting is not literally domestic, but the space and concerns, as in Steel Magnolias are coded female.) The standouts are Sarah Saunders as the avowed feminist and Dionne Audain as the sole, imperfectly integrated, African American who knows she's a token. Saunders, in a spunky performance that finally turns to open-eyed patriotism, believably plays a latter-day hippie who aspires to law school and who fails, until close to the end, to realize that she is married not just to her pilot but to the military itself. Audain's Felicia is an African-American nurse whose dignity is the product of harsh social discipline and also genuine compassion. Both performances slip fluidly from social chat to self-revelatory angst with no seams showing. Director Rosemary Andress orchestrated emotional and physical movement deftly.
This play hardly breaks new ground. (I was reminded of Shirley Lauro's A Piece of My Heart, the "women's" Vietnam play that features five nurses and the effects of serving in country.) But it opens a window on a cohort of women who share the worries but not the social mobility of the wives in The Unit and, as such, is worth its efforts.