Dorothy Chansky
Getting His Attention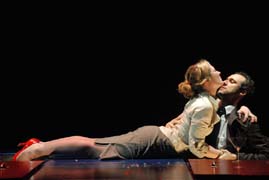 (L to R): Annie McNamara (Lenora) and Gibson Frazier (Ted) in ''God's Ear.'' Photo by Jim Baldassare.
"God's Ear"
New Georges at the East 13th Street Theater
136 East 13th Street, New York, NY
May 2 – June 2, 2007; Wednesdays-Mondays at 8:00 p.m.
Tickets: $25; Seniors and students: $18; Pay what you wish on Mondays
Box office: (212)868-4444 or www.smarttix.com
Ted and Mel are a thirty-something couple trying to do right by their grade school-age children, pick up the toys, make the plane on time for the next business trip, and otherwise inhabit the white collar terrain anchored by stress, achievement, stylishness, and low-grade depression. "God's Ear," Jenny Schwartz's quirky new play, starts on the last day of the business-as-usual phase of her characters' lives. The couple's son dies suddenly of an unnamed illness shortly between the first and second of about two dozen episodes.
Sympathy is not exactly what you feel for Ted and Mel, who speak in herky jerky non sequiturs, managing to sound earnest and detached at the same time. You know what they are going through (and what they are desperately trying to detour), but they generate fascination more than pathos. Recognition without identification is the compelling effect Schwartz achieves with her piled-up-like-a-trainwreck language and her surreal look at the everyday.
Ted drifts through airport bars and has an affair. Mel begs for his attention and pushes him away. Their six-year-old daughter Lanie asks endless questions and wants to grow up to be Helen Keller. Ted is absent when Lanie loses her first baby tooth, but the Tooth Fairy shows up for real. And GI Joe does, too, after Mel has tripped on one too many action toys, each of which reminds her of the little boy lost. The house is a landmine of memories and stories, but when it hurts too much to name them directly, Schwartz brings them to literal life, doing double duty as clichés and the stuff that dreams are made of.
Director Anne Kauffman's sure-handed staging is abetted by Kris Stone's imaginative set. The playing area is like an inverted dress box on a tray, but the box is full of trap doors that pop open to serve as beds, bars, and backyards. Every character might be Hamlet's father's ghost, unable to rest easy in the underworld. The mise-en-scène also conjures images of Beckett characters buried in mounds and trash barrels. The production seems to say that a day on emotional cruise control is as happy a day as you can get when your next of kin has died and you can't get a straight answer from your remaining nearest and dearest.
Each of the actors is a delight and no two are quite from the same planet. Christina Kirk's Mel is ditsy, dysfunctional, compulsive, a good mom, and seething with rage at her distant husband, as she tramps around in her bathrobe. Judith Greentree's Tooth Fairy is a frumpy dumpling in a tatty turquoise frock, frayed wings, and golden ballet slippers (costumes are by Olivera Gajic), dispensing money from an unstylish handbag when she finds the appropriate child's pillow. Annie McNamara is Lenora, a hyperactive, slinky composite of all the affairs Ted has had, and a sort of Al Hirschfeld cartoon of a desperate "Sex and the City" wannabe. The ticking of Lenora's biological clock is as loud as the television in the high-decibel sports bar. Ted and Mel's daughter is played by an adult, the gamine Monique Vukovic, who looks a little like Bjork and who conveys a delicious innocence laced with joie de vivre, as well as a wisdom beyond her years.
The play's single weak point occurs shortly before the end, when the Tooth Fairy and G.I. Joe recount the details of Mel's earliest interactions and bonding with her small children. The sentimentality is unnecessary and it disrupts the otherwise bizarre yet compelling world the playwright has constructed for this family desperately attempt to reconnect. They succeed, although not in the realm of the mushy or cathartic. But the whimper is all the bang we need, and it's plenty good.

| home | discounts | welcome | search |
| museums | NYTW mail | recordings | coupons | publications | classified |