CROYDEN'S CORNER
by Margaret Croyden
"Frost-Nixon"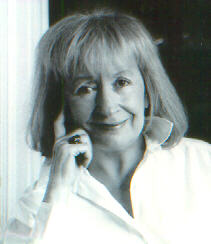 Margaret Croyden is a theater reviewer and essayist for the New York Theatre Wire.
"Frost-Nixon"
by Peter Morgan
directed by Michael Grandage
Bernard Jacobs Theater
242 West 45th Street
with Frank Langella and Michael Sheen
Reviewed by Margaret Croyden June 5, 1007

At last we have the best play of the season, the best performances, the best director, and best of all--Frank Langella in the role of Nixon. And what a performance. Actually I hesitated going to see this play. I lived through the Nixon period and was not anxious to have it in front of me again. Furthermore I thought it would be a straight docu-drama with question and answers and that's all. But much to my surprise it turned out to be a most fascinating psychological examination of one of our worst presidents.
As is commonly known, when David Frost interviewed Nixon, he finally managed to get some confessions from Nixon about his role in the Watergate episode, confessions that had been hard to obtain. Although we all know the story of Nixon, this two hour play (without intermission) was surprisingly intriguing and informative, despite our having lived through the entire Nixon era. Written with precision, humor, and insight the writer concentrated not so much on the tough questions David Frost posed to Nixon, but how the wily and shrewd Nixon cleverly dodged giving real answers. The cat and mouse game deliberately managed by Nixon and his advisors gave the play real tension. Also interesting was the psychological aspects of both men. According to this script, David Frost was not a very principled journalist but a shallow opportunist, a man at the end of his career, despite his years of work, an earnest drinker who liked the fast life, important celebrities and the money behind each interview. The writer Peter Morgan captures the intrigue that went into the making of the interview, the agents involved, the advisors, the handlers, and the characters' sleaziness in a sleazy business.
Michael Sheen who gave us a fine performance as Tony Blair in "The Queen" captures the details of Frost the man, Frost, the opportunist, and Frost at his wit's end trying to capture Nixon. A splendid performance, indeed.
Now for Frank Langella. Langella has always been remarkable. With his extraordinary actor's energy and theatrical presence he has always dominated the stage so that any role he plays will command the audience's attention. Thus he is a dangerous actor for his colleagues who must play with him. Although Michael Sheen in the role of Frost is very fine, one cannot take one's eyes off Langella. Without imitating Nixon--no false noses--Langella developed Nixon's character by concentrating on Nixon's voice and body, his hand gestures in particular, the movements of his head, his hunched shoulders and his false smile and false politeness. Langella also tried to find Nixon's sympathetic qualities, to humanize him, to find his inner life, without distracting from his essential villainy. And he succeeded very well. Langella's amazing control of his voice and body, and hands that were always in play, we believed Langella was Nixon-- Nixon the liar, the politician, the defensive, unapologetic evasive ex-president--everything we have known him to be. Still in the end Nixon's human quality, the real truth about his life and personality comes through in a surprise denouement, a scene that gives the play another dimension.
Much credit must go to the writer Peter Morgan. Although this is his first stage venture, he knows how to construct a theater piece. Not too surprising since he wrote the screen play for "The Queen" and "The Last King of Scotland" both movies that won numerous awards. Clearly his feeling for theater is there. Let's not forget director Michael Grandage who knows how to pace a two hour intermissionless play without tiring the audience. Frankly I thought that would be hard, but the play worked like a breeze.
I urge you to see "Frost-Nixon;" it is a grand night in the theater. And there are not too many of those these days.
MARGARET CROYDEN's recent book is "Conversations with Peter Brook, 1970-2000" (Farrar, Straus & Giroux)