Connection in Unlikely Places
New performance piece "We Are Being Held" explores human connection with a 'choose your own adventure style of art making.'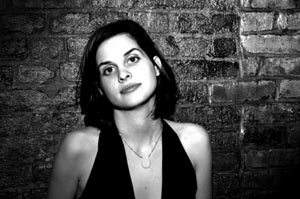 Finish this sentence: You'll f*cking love this play if you f*cking love… "A mash-up of "A Mighty Wind" and "Lost Highway"". "We Are Being Held" explores intriguing new territory. Photo byDelaney Britt Brewer.
We Are Being Held
Ps 122, 150 1st Avenue, NYC
Thursday, July 23rd - Sunday, July 26th
Tickets: $15 at ps122.org or 212-352-3101.
Info: coffeecuptheatre.org

"Awakened without his memory on a lone subway car, one man's past is conjured by two seemingly innocuous passengers who begin to unravel with him. Yes, it is an original piece of theater about human connection. Yes, it began as a subway play. Yes, we will go off the rails." Delaney Britt Brewer is a playwright, book writer and lyricist living in New York. We sat down with her to discuss her newest work, "We Are Being Held."
Q: Tell me how you came to write this play. I hear it was an unusual process.
A: I was approached by Ishah Janssen-Faith, the Artistic Director of Coffee Cup ( a theatre co.) to work with the company for a show they were planning on creating for the undergroundzero festival at PS122. At that point she knew she wanted a writer involved in the creation of this new piece, but the nature of collaboration was still to be worked out. We had a space, we had some of the team of collaborators and we had the seed of inspiration before we had any text written. It's proven to be an intensely awesome and scary way to work. Choose your own adventure style art making.
Q: The title suggests connection in unlikely places. Close?
A: Definitely. Choosing that title was pivotal in the creative process of this show because it solidified to me what we were actually going for theme-wise. It has seemed to really resonate.
Q: This isn't your first play set in the subway - what is it about NY's public transit system that sparks your imagination so much?
A. Ha—that's funny. I would rather avoid the subway at all costs, but somehow I've ended up on two projects that deal with it! Actually this show is a sort of revamp of a show Coffee Cup performed last year that grappled with the connectivity of people on the subway. However, with this show the subway is much more of a launch pad rather than subject matter. The story goes from yoga retreats, to chicken recipes, to panda bears, to love loss, to karaoke, to Buddha walking to Alaska, and so on. Oh, and songs will be sung.
Q: What or who is inspiring you right now?
A: The best two pieces of theater I've seen lately have been the Theatre de Soliel show, which was bar none the best piece of theater I've ever seen in my life. Also "Stunning" was a really exciting work on all counts for me. There was so much intelligence, craft, style shifting, and attention to detail going on in both the writing and the production. I was inspired by both shows because there was such passion and grit in them.
Q: You're kicking some pretty sweet goals in NYC: career highlight this far?
A: I love working with my friends as collaborators. There have been times in rehearsal or otherwise when I see folks I know and love understand the rhythm of my language, and we are all on the same page and get each other's humor. On top of that, folks I know are so open and talented that it makes me happy to have had the opportunity to work with them in some capacity.
Q: In your opinion, how's the theater scene doing nationally and internationally?
A: I hear theater's better over there cus they got more dollar billz. But, I do think that's it. If you have more support and there's more of a cultural literacy involving theater, then theater can only be better because there's more of an ability to take risks. I just don't think theater has as much respect or support Stateside. There's a climate of fear involving productions. Like we'd better mount "Friends the Musical", or else.