Clothing Optional
"Naked Boys Singing" celebrate ten long years of pants-off fun;
a show which comically pays tribute to nudity and the male form in all its glory.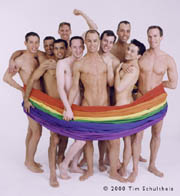 Photo by Tim Schultheis.
Naked Boys Singing
New World Stages, 340 West 50th Street, NYC
Fridays at 10.30pm, Saturdays at 6pm; ongoing
Tickets $69.50, information NakedBoysSinging.com
They're boys, they sing and they're naked. Sound like a fad? Nuh-uh: this July 25th, the lads celebrate their ten-year anniversary of doing what they do. Which is belt them out in their birthday suits. "People often think that the title is misleading – NOPE!" laughs Dance Captain, Craig Lowry. "It's a really fun, fluffy musical review that celebrates nudity in all the different areas where it might occur."
With 15 original songs delivered in just 70 minutes, "Naked Boys Singing" have honed their cult hit show down to a fine art, in order to titillate bachelorette parties, gay men, and the just plain curious in New York City. "Only rarely do we get the straight married couple who watch the show together," says Craig. "It's honestly not a sexual show - it's a ton of fun for anyone who wants to have a good time." There are also productions also happening in London, Las Vegas, Provincetown and Lisbon and Berlin to follow.
Before taking to the stage in nothing at all, Craig was spending time "in rhinestones and as animals", working the cruise ship circuit and cutting his teeth in the famous feline hit, "Cats". "Sometimes I miss quick changes," he says. (Obviously in this show, quick changes would be minimal). After four long years onstage with "Cats", he joined the cast of "NBS", and six months later was promoted to Dance Captain. "I learnt the show in eight hours and was so worried about remembering what I was supposed to be doing, that it wasn't until the second week that I realized that I was naked," he recalls. "At that point I said, 'I've already been naked for two weeks - too late now'."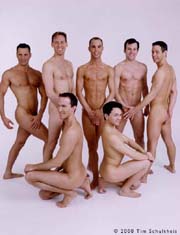 Photo by Tim Schultheis.
So, with all that naughty nudity onstage, we had to ask whether the party continued offstage as well… "OH DEAR GOD, NO!" he says emphatically. "It's really like a fraternity - it's a brotherhood instead of anything 'sexy' or scandalous. We do all hang out together, but it's more often going out to look for boys - or some cases girls; yes we have some straight cast members - as opposed to us being 'with' each other."
So if you haven't gotten your fill of fun-loving dudes without anything on in the downstairs department of late, head on over to New World Stages and join the party, because as we know: clothes alone do not maketh the man!